Getting Started: Associate Degree in Fire Science
The most popular degrees in fire science occur at the associate level. Two-year programs in fire science introduce students to the basics of emergency services, including fire personnel, first-response medical (EMTs and paramedics), police officers and federal agencies involved in emergencies and disasters. Coursework then progresses into fire behavior, building construction, protection systems, prevention techniques and strategy and tactics. Most fire science associate degrees run between 60 and 90 credits, with one-half to two-thirds of credits in the fire science major.
Some associate degree programs allow students to dive a bit deeper into a subset of fire science. For instance, students interested in the chemistry behind fires may opt for specialization in fire investigation. This can lead to classes such as Introduction to Chemistry, Chemical Concepts and Advanced Fire Investigation. For students with an eye on a leadership position, advisors may recommend courses in leadership, psychology and interpersonal communication.
The A.S. in Fire Science Online: How (and Why) It Works
Associate-level programs in fire science may have less hands-on components than bachelor's degree programs. Reason being, many two-year degrees have a similar goal: to prepare graduates for fire service examinations. Aspiring firefighters, for example, generally have three exams to pass before they can join a firehouse: a written exam, a physical exam and a psychological exam. The written test covers mathematics, human relations, problem solving, memory, reasoning and other knowledge, skills and attributes. These elements all can be learned and honed online – similar to any distance learning program – via live video lectures, Skype chats with peers, virtual office hours with instructors and other technologies and techniques.
In some cases, however, students may need to spend a short amount of time at a campus or training facility to complete certain tasks. For the aforementioned student interested in fire investigation, the class in Chemical Concepts likely requires lab work to be conducted in-person. This means the online program is officially a "hybrid", with a majority of work finished online, but with occasional visits to campus for face-to-face activities.
Featured Online Schools
Moving Up: The Fire Science Bachelor's Degree
Although the associate degree might suffice for many aspiring firefighters or fire investigators, some may seek more advanced study. Earning a bachelor's degree in fire science – on campus or online — can further knowledge in the field and, depending on specialization, prepare graduates for supervisory careers such as fire chief or fire marshal. In addition to basic fire and emergency services coursework, bachelor's degrees can include engineering, environmental science, HAZMAT, OSHA regulations and more. The exact courses taken depend on the college and the program, many of which have specific tracks based on geography and instructor availability. For example, western states may have more robust wildland firefighting programs, and East Coast urban centers more sophisticated anti-terrorism and emergency management opportunities.
The Fire Science Bachelor's Online
Online bachelor's degrees in fire science work almost the same way as online associate programs do. However, four-year programs can (and often do) require students to visit campus for a week or two at the beginning of each semester. The University of Cincinnati's Open Learning Fire Service Program, for example, is primarily online-based, but includes a one-week residency each July. Students complete necessary hands-on training requirements and get a taste of living and working with peers in the profession.
Online bachelor's programs in fire science can also be taken in tandem with fire academy training. The University of Cincinnati's four-year program, for example, touts its value as a tool for promotional opportunities with the department, promotion through transfer, and for moving on to related careers outside of the department, e.g. fire insurance or industrial safety.
RECOMMENDED SCHOOLS
Fire Science Program Accreditation
No matter which type of program a student considers, accreditation is important. It signifies continued quality and peer review by a qualified, unbiased agency. Most community colleges and four-year universities carry regional accreditation from one of six Department of Education-approved agencies. Each agency examines a school's curricula, faculty, resources, leadership and infrastructure, among other things. It's the ultimate stamp of approval, and covers an institution's individual programs, as well.
Some programs, however, including business, nursing, engineering, and, yes, fire science, seek additional accreditation by specialized agencies. For fire science, the Fire and Emergency Services Higher Education (FESHE) Programs serves as the primary agency. The International Fire Service Accreditation Congress (IFSAC) may also endorse various fire science certification programs.
TOP SCHOOLS WITH ONLINE FIRE SCIENCE DEGREE PROGRAMS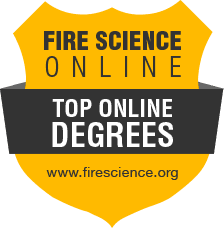 For many students interested in studying Fire Science, flexibility is key. The following popular colleges offer online programs for students for an array of Fire Science specialties like technology, administration, and management. Congratulations to the Top 19 Schools for making the list!
| Rank | University Name | School/College within University | Degree Program | Tuition + Fees | Description |
| --- | --- | --- | --- | --- | --- |
| 1 | Northern Virginia Community College | NOVA's Extended Learning Institute | Associate of Applied Science in Fire Science Technology | $3,485 | At Northern Virginia Community College, students can earn an Associate of Applied Science in Fire Science Technology degree. The program prepares students for technical or administrative careers in fire service or private sector careers in related fields. Students can transfer to bachelor's degree programs after graduation. |
| 2 | Broward College | Broward College Online | Associate of Science in Fire Science Technology | $2,494 | Broward College offers an Associate in Science degree in Fire Science Technology at its A. Hugh Adams Central Campus. Classes prepare students for careers in administration, with a foundation in ethics, safety, codes, and standards. There are opportunities for concentrated study in arson investigation, fire officer, and municipal fire inspector specialties. |
| 3 | St Petersburg College | eCampus - College of Public Safety Administration | Associate in Science in Fire Science | $3,172 | A Fire Science Technology Associate degree from St. Petersburg College provides a strong foundation in understanding the prevention and control of fire hazards in preparation for state certification. There are five sub-plans (Fire Inspector I and II, Fire Investigator, Fire Officer I and II) available online and in the classroom, all which are offered as certificates. |
| 4 | Keiser University - Sarasota | CampusOnline | Associate of Science in Fire Science | $17,664 | Keiser University Campus Online, the online division of Keiser University, offers an Associate of Science degree in Fire Science. The interactive programs can be accessed at each individual student's pace and are approved by the Florida State Fire College for Certification. The program was developed through a partnership between the Florida Professional Fire Fighters and Keiser University. |
| 5 | University of Cincinnati-Main Campus | UC Distance Learning & Outreach, Department of Aerospace Engineering and Engineering Mechanics | Bachelor of Science in Fire Science Technology | $10,784 | TThe Open Learning Fire Service Program at the University of Cincinnati is accredited by the North Central Association of Colleges and Secondary Schools. The school is the only one in the North America to offer both an online associate's and bachelor's degree in fire science. The program is offered in conjunction with the National Fire Academy's Fire and Emergency Services Higher Education Program. |
| 6 | Columbia Southern University | Columbia Southern University Online | Associate in Fire Science Bachelor of Science in Fire Administration | $4,895 | Columbia Southern University offers several degrees in fire science, including an Associate of Applied Science, Bachelor of Science Degree in Fire Administration, Bachelor of Science in Occupational Safety & Health Concentration in Fire Science, and Fire Science Certificate. Each program provides students with rigorous training in fire behavior, prevention, and protection in an online environment. All programs have been recognized by Fire and Emergency Services Higher Education (FESHE) through the U.S. Fire Administration's National Fire Academy (NFA). |
| 7 | Pikes Peak Community College | PPCC eLearning | Associate of Applied Science Degree Fire Science Technology | $2,989 | Pikes Peak Community College offers an online Associate of Applied Science Degree in Fire Science Technology as part of the school's online program. Courses prepare students for entry-level fire service careers. The program also serves experienced fighters seeking training through the Fire Science Credit for Prior Learning Program. |
| 8 | Eastern Kentucky University | EKU Distance Education | Bachelor of Science in Fire Arson and Explosion Investigations Bachelor of Science in Fire Protection Administration Bachelor of Science in Fire Protection & Safety Engineering Technology | $7,320 | Eastern Kentucky University has more than 30 years of experience training firefighters and offers bachelor's degrees in Science in Fire, Arson & Explosion Investigation, Fire Protection Administration, and Fire Protection & Safety Engineering Technology. Students are prepared for growth in fire science careers by world-renowned instructors and experienced industry professionals from around the country. |
| 9 | Embry-Riddle Aeronautical University-Worldwide | College of Arts and Sciences | Bachelor of Science in Fire Science | $7,320 | Embry-Riddle Aeronautical University offers a Fire Science degree based on the National Fire Academy of Fire and Emergency Services Higher Education (FESHE) Model Curriculum. The program meets criteria set by the National Fire Protection Association and addresses all critical areas modern fire departments must perform in the increasingly demanding field with online classes designed for flexibility and convenience. |
| 10 | Salem State University | School of Continuing and Professional | Bachelor of Science in Fire Science Administration | $8,050 | Salem State University offers a Bachelor of Science in Fire Science Administration which provides students with a strong academic and technical foundation as established by the National Fire Protection Association. All students are prepared for advanced management positions in fire services. |
| 11 | Providence College | School of Continuing Education | Bachelor of Science in Fire Science | $42,206 | Providence College prepares its bachelor's students for the significant demands of a career in the fire science industry. It includes 120 credit hours in academics, research, ethics, and leadership training for administration and management positions in fire service in the increasingly demanding field. |
| 12 | John Wood Community College | JWCC Online Learning | Associate of Applied Science Degree Fire Science Technology | $7,290 | John Wood Community College offers online Associate of Applied Science degrees as part of the school's Fire Science Program. Students can work at their own pace while taking fire science courses, many of which are approved by the Illinois State Fire Marshal. Exams given at the end of courses are approved for Illinois firefighter certification. |
| 13 | Colorado State University | Colorado State University Online Plus | Bachelor of Science in Fire and Emergency Services Administration | NR | At Colorado State University, students can earn a bachelor's degree in Fire and Emergency Services Administration as part of the school's comprehensive online program. Students receive training in advanced technical skills while also preparing for the key administrative tasks associated with a modern career in fire science. |
| 14 | Saint Thomas University | School of Leadership Studies | Bachelor of Science in Fire Science Management | $25,110 | A Bachelor of Science in Fire and Emergency Services Management from St. Thomas University prepares students for a professional career in fire or related services. Five-week courses can be taken one at a time to give students a foundation in critical and creative skills through collaboration and management in a blended or strictly online format. |
| 15 | Lake Superior State University | School of Criminal Justice, Fire Science and Emergency Services | Bachelor of Science in Fire Science-Generalist (Certification and Non-Certification) | $9,640 | Lake Superior State University (LSSU) offers a bachelor of science in Fire Science degree in a convenient online program. Students can complete an associate-level degree in fire science at Lansing Community College or Kalamazoo Valley Community College on-line or via DVD. The program is accredited by the International Fire Service Accreditation Congress. |
| 16 | Waldorf College | Waldorf College Online | Associate in Arts in Liberal Arts Concentration in Fire Science Bachelor of Applied Science in Fire Science Administration | $19,820 | Waldorf University offers students the opportunity to earn an Associate in Arts degree with a concentration in Fire Science. Students can learn about a wide range of fire science topics, including risk reduction, investigation, and fire dynamics in the online program. Students can also earn a Bachelor's of Applied Science in Fire Science Administration degree in the school's Fire and Emergency Services Higher Education (FESHE)-recognized program. |
| 17 | Anna Maria College | Anna Maria College Online | Bachelor of Science in Fire Science | $30,676 | Distance-learning students can earn their bachelor's degree in Fire Science from Anna Maria College (AMC). The program, which has been awarded Fire and Emergency Services Higher Education (FESHE) recognition, prepares students for the professional and technical duties involved with a career in fire service. Anna Maria College is accredited by the New England Association of Schools and Colleges. |
| 18 | Cogswell Polytechnical College | Cogswell Polytechnical College Distance Learning | Bachelor Degree in Fire Science | $19,668 | At Cogswell Polytechnical College, students can earn a bachelor's of science degree with a concentration in Fire Administration or Fire Prevention/Technology in the school's online program. The Fire Science program is accredited by the Western Association of Schools and Colleges (WASC) and sponsored by the National Fire Academy's Fire and Emergency Higher Education (FESHE) program. |