Firefighters used to fight fires. But according to the National Fire Protection Association, during the past 35 years, the number of fires in the United States has fallen by more than 40%.According to the Boston Globe, for example, Boston city records show a decrease in major fires from 417 in 1975 to just 40 in 2012. Better building codes, automatic sprinkler systems, smoke alarms, and increased public awareness of safety measures have all contributed to the decrease.
So, while firefighters certainly still fight fires, they also focus on public education, fire inspections, and other forms of community outreach to foster fire prevention. In addition, many firefighters are trained EMTs or paramedics. Fighting actual fires has also become more complex, and special units of firefighters are trained to handle everything from hazardous materials incidents to rescuing victims from building collapses.
As the field has changed, it's become more and more professional. While a high school diploma is often still the minimum requirement to become a firefighter, many aspiring firefighters also pursue advanced degrees, such as associates, bachelors or masters degrees in fire science. They find having a degree is beneficial in this highly competitive field.
In June 2013, the Las Vegas Fire Department received 500 online applications in just 24 minutes for 24 fire trainee job openings. If yours is one of 500 or more resumes being considered, you're going to need to stand out in some way. Job candidates with more than a high school education will have an advantage. It's not unusual today for firefighters to have at least a two-year degree. A degree in fire science opens the door to careers in fire prevention, fire safety, fire response, and fire investigation.
Fire science degrees are also valuable to those already working in the field as firefighters, as they afford opportunities for advancement. With a combination of experience and education, firefighters can move into positions such as fire inspector and fire investigator.
And, if you aspire to a leadership position such as being a fire chief or an emergency services director, you will likely need a master's degree.
Types of Degree Programs

Fire science degrees can be general or specific to a fire science specialty, such as fire prevention, fire suppression, or fire services leadership. They can be tailored to the entry-level firefighter or to those with experience who want to advance their careers. Options include:
Certificates: Certificates are not degrees, per se, but rather a type of credential that indicates you've had training in a particular area, such as fire inspection or arson investigation. Certificates are generally short courses that take less than one year to complete, and are open to high school graduates.
Associate Degrees: Associate degree programs are offered by community colleges and typically take two years of full-time study to complete. You must have a high school diploma to enroll in an associate degree program. Fire science associate degrees prepare students for entry-level firefighting positions.
Bachelor's Degrees: A bachelor's degree in fire science will generally take four years of full-time study. While these degrees have been traditionally sought by current firefighters seeking advancement, more and more entry-level candidates are pursuing bachelor's degrees as a competitive advantage to getting hired.
Master's Degrees: Master's degrees are considered terminal degrees – the most advanced degree you can obtain – in the field of fire science. They take two years of full-time work, although many pursue their master's degrees on a part-time basis. Firefighters interested in becoming chiefs or holding other high-level leadership positions should consider obtaining a master's degree.
It's important to note that a certificate or degree does not take the place of any additional training required by municipal fire departments. Entry-level firefighters, whether they have a degree or not, must typically complete about 600 hours of training over the course of 12 to 14 weeks at a fire academy designated by their hiring fire department.
Online Fire Science Degree Options
There are a variety of options for obtaining an online fire science degree. Since this is a hands-on training field, however, degrees that are delivered fully online tend to focus on administration and policy topics and are of the most value to working fire service professionals who've already had field training. Hybrid programs, where some of the content is learned online and some in person, are good options for those without experience. Firefighters living in remote areas without access to a local campus are great candidates for online learning, as are older firefighters looking for a career change within the industry.
What You'll Study

Associate degree coursework typically includes classroom and hands-on training, and even internships. Students become familiar with firefighting equipment and learn how to maintain it. Field training can include fighting actual, albeit controlled, fires and working alongside firefighting professionals in a fire station.
In addition to general education classes, typical courses include:
Fire Behavior and Combustion
Rescue Procedures
Fire Extinguishment Basics
EMT Basics
Chemistry of Fire Science
Fire Codes and Laws
Fire Science majors at the bachelor's level may also combine classroom study with field training and/or an internship. They study many aspects of the fire service profession, such as fire behavior, fire extinguishment, rescue procedures, and environmental policy. Common courses, in addition to general education classes, include:
Fire Prevention
Emergency Management
Fire Investigation
Fire Control
Fire Chemistry and Physics
Hazardous Materials Management
Disaster and Fire Defense Planning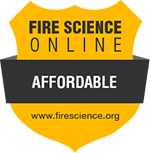 Colleges, universities, and fire academies across the country offer fire science degree programs. Students can find specialized training at multiple degree levels in nearly every state. A fire science degree can be a big investment of time and money. In order to help prospective students choose the most affordable option, we have provided information on fire science programs ranked by affordability.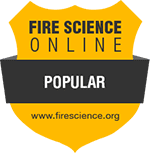 Popularity can be an indication of everything from a school's reputation, how well a program sets students up for jobs, the quality of instruction, or desirability of location. It can also impact how competitive it is to be accepted into a program. We have compiled a list of the most popular fire science programs throughout the country.